By: Joseph A. Papavero, Public Relations Chairman
(Note: See our News Articles in the Times Newsweekly and Queens Ledger Newspapers)
To start off the Holiday Season, the Maspeth Lions Club has certainly been in the Holiday spirit of giving. During the holidays, the Maspeth Lions are especially busy with their charitable events and projects. At their Thanksgiving meeting, Joe Martino was on hand and the Lions presented him with their annual donation of $500 to St. Vincent de Paul to help with their Thanksgiving food program. The Lions also invited a special needs child from the Maspeth community and presented him with a brand new winter coat, to help ease the burden of his mother. But this was just the beginning…
On Saturday, December 3rd, the Lions held their annual Children's Christmas party for underprivileged children at St. Stanislaus Parish Hall. The party catered to over 100 children from St. Mary's, who enjoyed a full day complete with lunch, snacks, entertainment, a clown performance, musical holiday sing-a-longs and a visit from Santa Claus. The Lions provided the group with over 1,000 toys and gifts to take home with them. Lunch was donated by Three Sons Restaurant of Maspeth.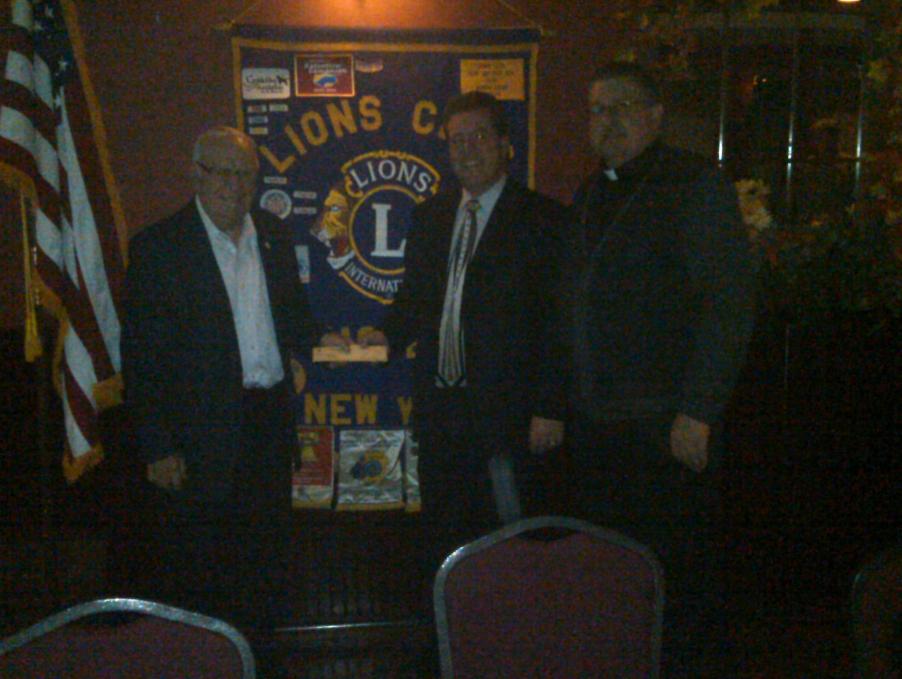 Lion President Joseph B. Papavero & Chaplain Rev. Vytas Volertas present Joe Martino of St. Vincent de Paul with donation for Thanksgiving meals.
On Sunday, December 11th, the Lions made their annual visit to Midway Nursing Home, where they spent the day visiting the sick and elderly residents of the home. The Lions entertained residents with musical performances, entertainment, fun and games and each resident received a cozy fleece blanket to keep them warm through the winter season. This is an annual visit that brings the residents great joy and holiday cheer.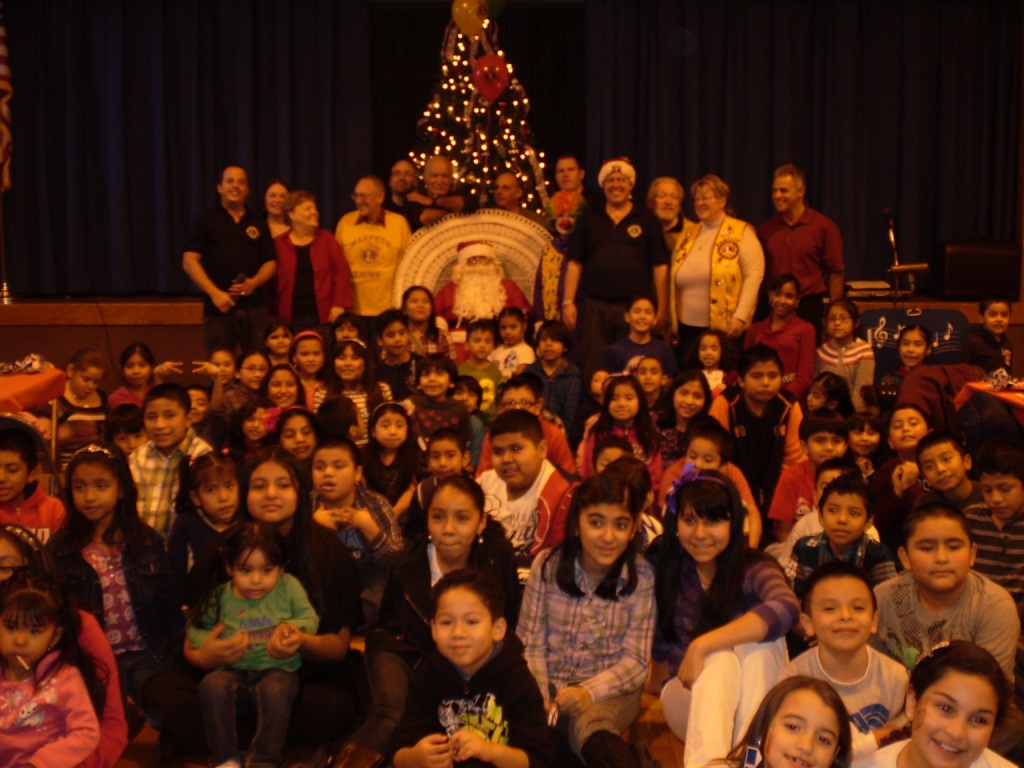 Lions Group Photo of Children's Christmas Party.
The Maspeth Lions will be hosting their annual Charter Night Dinner Dance on Thursday, December 15th, at Russo's on the Bay. This event serves as the Lions annual fundraiser, which helps generate a substantial amount of funds used to carry out their various projects and charitable contributions throughout the year, such as the Children's Christmas Party, the Midway Nursing Home Visit, the Halloween Ragamuffin Parade as well as donations to the Guide Dog Foundation, Lions Eye Bank, Visions Camps for the Blind, 8th Grade Community Service Scholarships and Juvenile Diabetes Research Foundation.
Among the Lions upcoming charitable projects is the Holiday Meals on Wheels program, done in conjunction with Maspeth's Cardinal Spellman Knights of Columbus. On Christmas morning, the Lions and Knights will be delivering approximately 100 meals to local needy and homebound residents of Maspeth. This year, the Christmas meals will be donated by Connolly's Corner, along with flowers donated by Long Island Wholesale Florist, supplies donated by Frank's Deli, bread donated by Barosa Restaurant and fresh fruit by Three Sons Restaurant.
Even with all of the great projects and events the Lions have been able to accomplish, they are always aiming to do more good in the community. Therefore, they are always looking for new members. Those interested in helping the Maspeth Lions Club in any of their charitable endeavors and events, may stop into one of the meetings throughout the year for more information about membership. The Maspeth Lions meet at Connolly's Corner on the 2nd and 4th Thursday of each month at 7:30 PM. Next month's meetings are scheduled for the 12th and 26th of January 2012.
For more information, please call Lions Public Relations Chairperson, Joseph A. Papavero, at (917)559-0707.