By: Joseph A. Papavero, Public Relations Chairman
(Note: See our News Articles in the Times Newsweekly and Queens Ledger Newspapers)
The Maspeth Lions Club held their biennial induction of officers meeting on September 22, 2011 at Connolly's Corner. It is at this meeting where new club officers are sworn in for their next two years of service to the club. NY State Senator Joseph P. Addabbo Jr. was on hand to swear in the officers and Lions Past-District Governor Pauline Francis inducted two new members into the Maspeth club. New Lions President Joseph B. Papavero was sworn in along with Michael Aylward as Treasurer, Ed Bivona as Secretary, Richard Kichinski as Vice President, Joseph A. Papavero as 2nd Vice President, Khaled Musa as 3rd Vice President, Peter Wolyniec as Recording Secretary, Joseph Abramaitis as Zone Chairman, Nicholas Bamonte as Tail Twister and Edward Kruck as Lion Tamer. Dominick Coticchio and Rusty Valle were sworn in as new Lions members as the club continues its mission to grow. The Maspeth Lions also salute Immediate Past-President Michael Locascio on a job well done in his two-year term as President and recognized Lion Robert Vollkommer for 10 years of service in Lionism.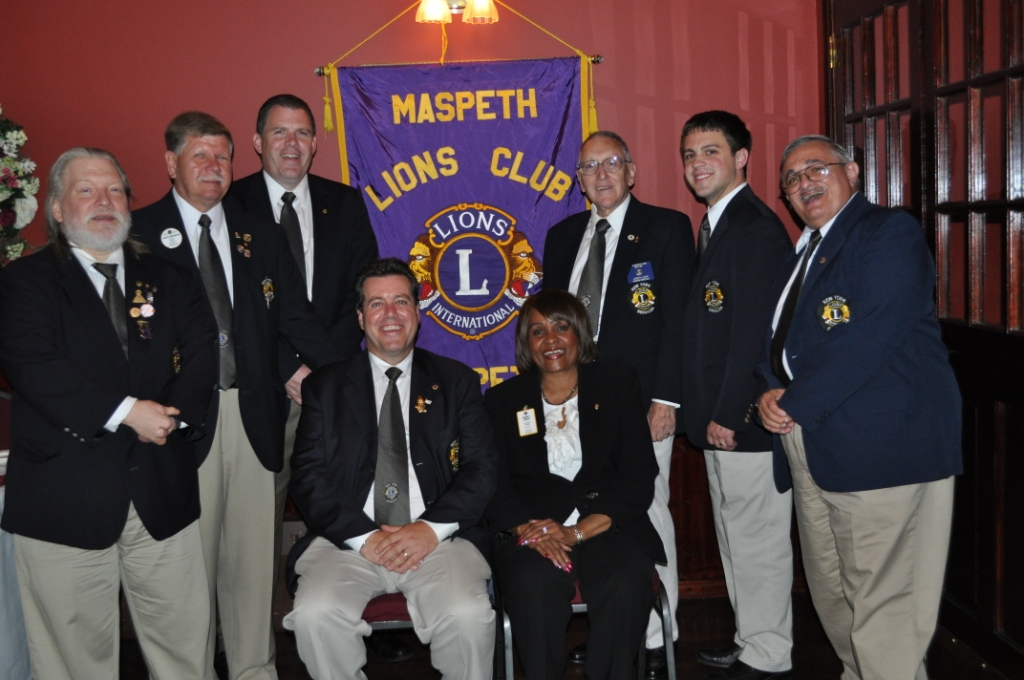 Photo (from l. to r.):

Peter Wolyniec, Joseph Abramaitis, Michael Aylward, Joseph B. Papavero, PDG Pauline Francis, Joseph Licari, Joseph A. Papavero & Ed Bivona
These new officers will be very busy in the upcoming months with what is a very busy Fall Lions schedule. Recently, the Maspeth Lions participated in the Greenpoint Lions Club's annual bathtub race. Lions Joseph B. Papavero, Michael Aylward and Nicholas Bamonte participated in the race, held at Msgr. McGolrick Park in Brooklyn, NY on September 17, 2011. The Maspeth team pushed their bathtub and steered with plungers to capture the victory trophy in the event.
The Lions also made some great charitable contributions. In August, the Lions donated $500 to the Juvenile Diabetes Research Foundation on behalf of JDRF volunteer and Lions member Deborah Cox. On September 19, the Lions made a $200 donation to the T.E.A.L. Walk for Ovarian Cancer (Tell Every Amazing Lady). The Lions will also be attending the Lions Eye Bank of New York's Gala Event on November 19, to make a contribution to the Eye Bank. Maspeth Lions Marilyn McAndrews and the late Lion Joseph Sikorski have participated as Past-Chairpersons in transporting corneas for those in need. In addition, all proceeds generated at the September 25th Maspeth Street Fair will be donated to the Guide Dog Foundation in the club's effort to donate $6,500 to purchase 2 guide dogs for the blind.
On October 31, the Lions will hold their annual Children's Halloween Ragamuffin Parade along Grand Avenue. This year's parade will begin at 7 PM at the Main Gate of Mount Olivet Cemetery (Remsen Place & Grand Avenue) and proceed to Maspeth Federal Savings' parking lot, where all participating children, dressed in costume, will receive a free bag of tricks & treats courtesy of the Lions.
Those interested in helping the Maspeth Lions Club in any of their charitable endeavors and events, may stop into one of the meetings throughout the year for more information about membership. The Maspeth Lions meet at Connolly's Corner on the 2nd and 4th Thursday of the month at 7:30 PM. This month's meetings are scheduled for the 13th and 27th of October.
For more information, please call Lions Public Relations Chairperson, Joseph A. Papavero, at (917)559-0707.