The Lions Den
Newswire
Lions Update - July 2008

By: Joseph A. Papavero, Public Relations Chairman
---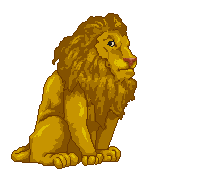 The Maspeth Lions club has been busy lately in its community programs and neighborhood activities. There are so many different areas and different events to talk about. First, let's talk about some recent Maspeth events. On Sunday, May 25, the Lions participated in Maspeth's Grand Avenue Memorial Day Parade. Continuing the annual tradition, the Lions carried the flags baring the colors of our nations. Among the nations and other entities represented were as follows: United States of America, New York State, POW/MIA, Canada, Germany, Poland, Lithuania, Israel, Italy, Ireland, Lions International, Finland and others.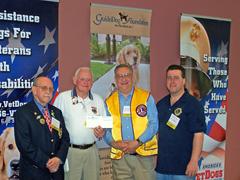 Lions Bob Vollkommer & Joe Papavero Sr. attend Guide Dog Recognition Day May 31.
Then, on Saturday, May 31, Lion President Bob Vollkommer and Lion Joe Papavero Sr. attended the Guide Dog Recognition Day in Smithtown, NY. They got to meet, greet, and learn all about the many guide dogs the Maspeth Lions Club has donated to those in need. In addition to learning about the dogs, their contributions and other facts, they got to participate in many hands-on exercises with the dogs. It truly was an enjoyable and interesting and educational day!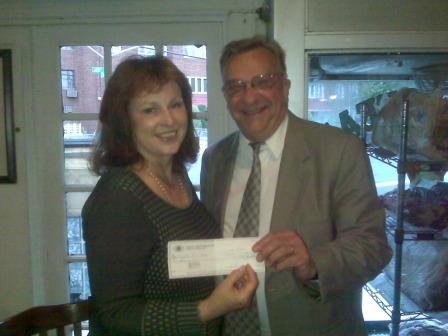 Kiwanis' MaryAnna Zero presents Lion Past-President Bob Vollkommer with the $1,000 Raffle Ticket Win at the June 5th meeting!
At our June 5th meeting, the Maspeth Lions were presented their $1,000 raffle ticket winnings by Kiwanis member Mary Anna Zero. The raffle earnings will be earmarked for special charitable donations and was especially sweet coming from Kiwanis - Thank you guys! Also at the June 5th meeting, new Lion member Agnes Belka was inducted and sworn in by Lion President Bob Vollkommer. Welcome to the Club, Agnes!
On Sunday, June 8, the Maspeth Lions participated in and sponsored our Maspeth Grand Avenue Street Festival, running their popular Iavarone Bros. Sausage & Peppers stand. The Lions raised significant funds at the street fair, which will be used to fund various charitable contributions and events throughout the year. Furthermore, the club recently donated six $250 scholarships to 8th Grade Graduates at St. Stanislaus, St. Adalbert's and Our Lady of Hope Schools for their outstanding service in the community. The club also plans to purchase another Guide Dog shortly among other charitable works.
Also in the news - August 19 will be the Maspeth Lions Club-St. Mary's Children's Hospital Annual Fishing Trip in Freeport, NY. Every year, the Lions are joined by the children of St. Mary's Hospital for a day of fishing, eating, drinking, prizes and fun in the sun aboard a fishing party boat out of Freeport's Nautical Mile. It is the club's goal that every child catches the biggest fish and receives a medal for their efforts.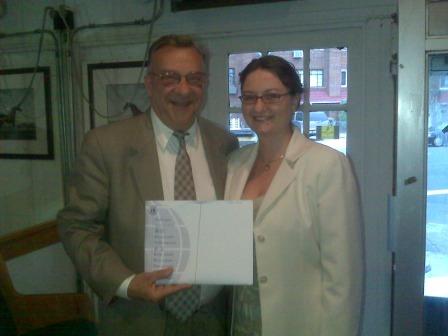 The Maspeth Lions Past President Bob Vollkommer welcomes new Lion Member Agnes Belka at June 5th meeting.
The Lions will also be announcing another Day Trip to a popular destination. The Renault Vineyard and Atlantic City trip that took place on April 20 of this year was a success. The club filled 2 buses with over 80 people for a lunch, tour and wine-tasting of the vineyard at Renault followed by an afternoon of fun in Atlantic City. Another trip will likely be announced for the fall and the likely Connecticut destination will soon be unveiled.
Our next meeting is on Thursday, August 28. It will be our annual installation of Officers and discussion of much more to come in the year ahead! New Members are Welcome. Please see below for more information.
September 7th will be yet the next Maspeth Street Fair to close out the summer. Come join us for a day of fun and entertainment and stop at the Maspeth Lions Iavarone Bros. Sausage stand on the corner of Grand Avenue and 69th Street (right in front of Iavarone Bros) for one of our famous Sausage & Peppers Heros. Other Maspeth Groups include the Maspeth Chamber of Commerce and Maspeth Kiwanis.
Later on in the year, we will be celebrating our 30th Annual Charter Night Dinner-Dance. The Charter Night is one of our biggest fundraisers and a great night of fun, great food and entertainment. It will take place on December 3rd at Russoís On the Bay in Howard Beach, NY. Come celebrate our 30 years of charitable and social responsibility to the Maspeth community. A ticket purchase includes Dinner, Cocktails, Entertainment and entry into our 50/50 Raffle. Please call for more information and tickets.
The Maspeth Lions Club is always looking for new members and, in fact, encourages new members to join now! If you are interested, please contact Lions Public Relations Chairperson Joseph Papavero Jr. at (917)559-0707, visit our website at www.maspethlions.org, or email us at lions@maspethlions.org. Feel free to just stop into one of our meetings held at 7 PM on the Second and Fourth Thursdays of every month at OíNeillís Restaurant, located at 63-33 65 Place in Maspeth. The next Summer August meeting will be on August 28. We are looking forward to meeting you and welcoming you into our club!
Check back for more Maspeth Lions News coming soon!
---