The Lions Den
Newswire
Lions Update - June 2011
By: Joseph A. Papavero, Public Relations Chairman
(Note: See our News Articles in the Times Newsweekly and Queens Ledger Newspapers)
---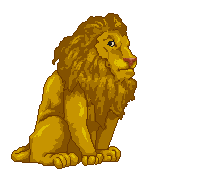 On Saturday, June 4, 2011 the Maspeth Lions Club made the trip out to Smithtown to visit the Guide Dog Foundation on their annual event to showcase what they do throughout the year to help pair people in need with a guide dog.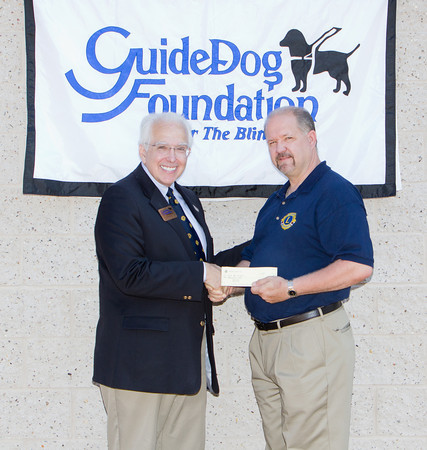 Maspeth Lion Richard Kichinski (r.) presents Guide Dog Foundation CEO Wells Jones with Maspeth Lions Donation.
This year, Lion Richard Kichinski and his wife, Lorraine, made the trip to represent the Maspeth Lions. With them, they brought the Lions donation of $3,000, which will be used toward the next guide dog the Lions sponsor. Through hard effort and active fundraising the Lions have sponsored 17 dogs throughout the years, each sponsorship costing $6,000. It is the club's goal to donate 2 dogs this year. Lion Richard Kichinski presented the check to Guide Dog Foundation CEO and Levittown Lion Wells Jones at the Guide Dog Foundation in Smithtown, NY. The Maspeth Lions Club continues to work with the Guide Dog Foundation to continue to help those in need. Many fundraisers throughout the year are aimed at raising money for this cause.
The Guide Dog Foundation works hard to train, develop and pair guide dogs with vision-impaired people in need. At their annual event in Smithtown, visitors can get an up-close tour of the Guide Dog Program, speak to those involved in training the dogs and even get a demonstration with a guide dog. Lion Richard and his wife both agreed that it was an amazing experience that they would recommend to anyone interested.
Those interested in helping in these projects and other projects like it, may stop into one of the groups' meetings throughout the year for more information about membership. The Maspeth Lions meet at Maspeth Ale House, 64-14 Flushing Avenue, Maspeth, NY on the 2nd and 4th Thursday of the month at 7:30 PM.
For more information, please call Lions Public Relations Joseph Papavero at (917)559-0707.
---